Ardent Contract Vehicle
CIO-SP3
CIO-SP3 Small Business Government-Wide Acquisition
The Chief Information Office – Solutions and Partners 3 (CIO-SP3) Government-Wide Acquisition Contract (GWAC) is a ten year Indefinite Delivery/Indefinite Quantity (IDIQ) contract. Any federal civilian or DoD agency may use this contract to fulfill a broad range of mission critical IT requirements as diverse as Cloud Computing, Cyber Security, and Health IT. The CIO-SP3 contract is managed by the National Institutes of Health (NIH) Information Technology Acquisition and Assessment Center (NITAAC).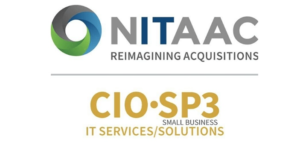 Ardent's CMI Solution – Now available via NITAAC
Federal agencies can now order Ardent's Common Microservices Initializer (CMI) solution directly via NITAAC. See below to learn more about how Ardent's CMI platform speeds the digital transformation journey, leveraging APIs to accelerate legacy modernization.
Contract Details
Contract Number:  HHSN316201200199W
Period of Performance:  07/15/2012-07/14/2022
Contract Types:  Firm-Fixed-Price (FFP), Cost-Plus-Fixed-fee (CPFF), Cost-Plus-Award-Fee (CPAF), Cost-Plus-Incentive-Fee (CPIF), and Time-and-Materials (T&M)
Prompt Payment Terms: 1% 10, Net 30 Calendar Days
Contact Information
Program Manager

Bryan Casey

703-964-8014

Contracts Manager

Donella Lael

703-964-8037
Contract Details