Ardent maintains contracts with the various state, local, and federal entities.
Ardent Contract Vehicles
CIO-SP3 Small Business Government-Wide Acquisition
The Chief Information Office – Solutions and Partners 3 (CIO-SP3) Government-Wide Acquisition Contract (GWAC) is a ten year Indefinite Delivery/Indefinite Quantity (IDIQ) contract. Any federal civilian or DoD agency may use this contract to fulfill a broad range of mission critical IT requirements as diverse as Cloud Computing, Cyber Security, and Health IT. The CIO-SP3 contract is managed by the National Institutes of Health (NIH) Information Technology Acquisition and Assessment Center (NITAAC).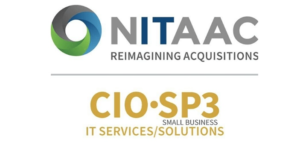 Ardent's CMI Solution – Now available via NITAAC
Federal agencies can now order Ardent's Common Microservices Initializer (CMI) solution directly via NITAAC. See below to learn more about how Ardent's CMI platform speeds the digital transformation journey, leveraging APIs to accelerate legacy modernization.
Contract Details
Contract Number:  HHSN316201200199W
Period of Performance:  07/15/2012-04/29/2023
Contract Types:  Firm-Fixed-Price (FFP), Cost-Plus-Fixed-fee (CPFF), Cost-Plus-Award-Fee (CPAF), Cost-Plus-Incentive-Fee (CPIF), and Time-and-Materials (T&M)
Prompt Payment Terms: 1% 10, Net 30 Calendar Days
Contact Information
Program Manager

Bryan Casey

703-964-8014

Contracts Manager

Donella Lael

703-964-8037
U.S. Geological Survey
Overview
Ardent Supports the Federal Geographic Data Committee (FGDC) under a US Geological Survey IDIQ Contract to provide government-wide policy and guidance aimed at implementing technology-enabled capabilities for the development, management, search, integration, display and analysis as well as the archiving of geospatially referenced data assets and products (maps).
The scope of this effort includes services necessary to provide a full range of application, platform and service design, development, and maintenance support, as well as related operational support. Under multiple task orders our team supports the www.Geoplatform.gov which enables users to search, discover, fuse and use geospatial data products and services to meet complex mission requirements across multiple organizations. Our work includes both business and scientific (mission) processes and requirements.
Contract Details
Contract Number: 140G0120D0001
Date Awarded: January, 2020
Office of Personnel Management
Overview
Ardent Supports the Office of Personnel Management (OPM) under a blanket purchase agreement for the Systems Development Support Services for Human Resource Solutions IT Program Management Office (HRITPMO.) The blanket purchase agreement is funded with a total value of $281,964,410. The scope of the contract provides for the design, development, and operations and maintenance of HRITPMO systems to identify, recruit, hire, and retain qualified candidates to support across the federal workforce. The goal of the BPA is to modernize legacy systems and prepare for delivery within the cloud with modernized architecture.
Contract Details
Contract Number: 24361819A0003
Date Awarded: March, 2019
GSA Schedule
Ardent provides leading-edge solutions to federal and state clients through a GSA Schedule. The GSA Schedule Contract provides clients with a direct avenue to conveniently obtaining ArdentMC professional IT services.
Contract Details
Contract Number: GS-35F-0212U
Business Type: Small Business
UEI: H8YMWAKEKPN5
End Date: April 24, 2023. One remaining 5-year option expected to run 2023 - 2028.
Ardent Contacts
Order Status POC

Donella Lael

703-964-8037

Business Development

Brian Casey

703-964-8014
National Technical Information Service
Ardent joins an exclusive group of data sciences experts that provide next generation solutions to NTIS customers across the Federal landscape. As a Joint Venture Partner, Ardent will apply our Data framework using advanced analytics and ML Ops to accelerate federal agencies' ability to collect, connect, access, analyze, and extract valuable insights from federal data and enhance data services.
Ardent Contacts
Business Development

Josh Rubin

571-293-2806
DHS Geospatial Technical Support Services
Overview
Department of Homeland Security (DHS) Geospatial Technical Support Services (GTSS 2.0) Department-Wide, Strategic Sourcing Vehicle provides capability for supporting programs throughout DHS with geospatial analysis and situational awareness technologies. Services include delivering critical geospatial mission support in the areas of emergency management during natural and manmade disasters, planning for National Special Security Events (NSSE), securing the northern and southern borders, enforcing immigration and customs regulations, maritime security and other law enforcement missions, and protecting essential critical infrastructure.

GTSS 2.0 BPA scope of services provides situational awareness capabilities to DHS Operations that rely on location-based technologies for decision support including:
Task 1 Program and project management services –  Report on utilization and adoption of geospatial technology, the impact of geospatial programs, initiatives and geospatial capabilities.
Task 2 Solutions engineering, system design and implementation – Perform a variety of systems engineering tasks concerned with systems; design, integration, and implementation; perform test and evaluation tasks, cloud migration, and DevOps.
Task 3 Analytics and data processing activities – Create and develop geospatial products and geo-processing tasks; identify geospatial data needs to support geo-analysis; compile and maintain geospatial metadata and deliver  in shareable formats.
Task 4 Enterprise and technical architecture actions – Provide technical data, security, identity management, and systems architecture analysis and assessment for architectural products of the enterprise and operation business lines; advise on network processing, client/server structure, data storage and access, systems integration, ensure compliance with DHS Enterprise Architecture policies, standard, and procedures.
Task 5 Data processing and Management Activities –  Design, implement and maintain geodatabases, access methods, access time, device allocation, validation checks, organization, protection and security, documentation and statistical methods in a geospatial data warehouse environment; review object and data models and the geospatial metadata repository; review geospatial data governance Geospatial Data Modeling; Metadata development and alignment data standards.
Task 6 Cloud managed services, DevOps, Operations and Maintenance – Provide corrective and preventive maintenance; cloud migration and managed services, maintain Certification and Accreditation with authority to operate (ATO); support all modifications, upgrades and enhancements; provide infrastructure and network services support; provide Technical Help Desk Services 24x7x365; perform automated testing and quality assurance for DHS geospatial systems, solutions, and applications.
This BPA allows the DHS community an efficient and effective vehicle for contracting with proven, vetted geospatial resources.

Contract Details
Contract Number: 70RTAC19A00000004
Date Awarded: September 30, 2019
Government Contacts
Contracting Officer's Representative (COR)

Lewis Summers

202-603-6304

Strategic Sourcing Program Office (SSPO)

Samantha Mehl
Ardent Contacts
Business Development

Brian Casey

703-964-8014

Business Development

Josh Kolchins

240-604-1661
Services for Enabling Agile Delivery
ArdentMC announced in May 2018 that the company has been awarded a BPA to provide Services for Enabling Agile Delivery (SEAD) in support of USCIS, an agency within the DHS.
Overview
Under this contract, ArdentMC will support and assist organizations in best practices and solutions that enable agile delivery. ArdentMC will provide implementation of Next Generation Web-Based Applications and Systems Infrastructure, with a focus on automation, availability, performance, and efficiency at scale. The SEAD team will immerse itself in existing Agile teams and apply innovative thinking in novel and unique situations, with an overarching goal of increasing the adoption of agile and continuous delivery with DHS components.
Ardent Contacts
Business Development

Brian Casey

703-963-8014